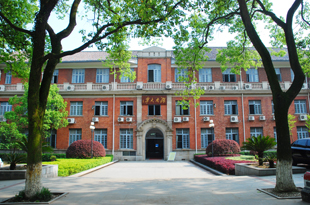 Hunan University is situated at the foot of the picturesque Yuelu Mountain and on the west bank of the rippling Xiangjiang River in the historically and culturally renowned City of Changsha, capital of Hunan Province. It enjoys the title of an "Ancient Millenarian Academy, Famous Centennial University". As one of the key and most comprehensive universities affiliated with the Ministry of Education, it has been included in the state's "Project 211" and "Project 985" for priority investment and construction.
Hunan University, an extension of one of the four famous Academies of the Song Dynasty, dates back to the period of the founding of Yuelu Academy in 976 AD. The university has maintained the glorious culture and education standards inherited from the historical institute in the process of the numerous changes faced with during the Song, Yuan, Ming and Qing dynasties. It was reconstructed into Hunan Institute of Higher Learning in 1903, renamed Hunan University in 1926, and subordinated to the Republic of China's Ministry of Education as one of 16 state universities in 1937. After the founding of the People's Republic of China, the Central People's Government appointed Li Da, delegate to the first CPC National Congress and a well-known educator, as the first President of Hunan University. Chairman Mao Zedong inscribed the name of the University. In 2000, Hunan University and Hunan Institute of Finance and Economics merged to give shape to a new wide-ranging Hunan University.
Carrying forward the celebrated traditions of quality education and personnel cultivation, Hunan University continues to focus on the essence of its motto "Seeking Truth from Facts; Daring to be Pioneers" and the style of "Be Profound, Intelligent, Diligent and Dedicated in the Pursuit of Knowledge". It has adopted distinctive teaching style featuring "solid foundation, active thinking, strong adaptability, and good comprehensive quality". Since the founding of the People's Republic of China, the university has produced numerous senior professionals. Many of our graduates have become academic experts, entrepreneurs and high ranking officials in government organs and private sectors, while 36 faculty and alumni members have been elected as academicians of the Chinese Academy of Science and the Chinese Academy of Engineering. The full-time student body totals more than 36,000, of which over 20,000 are undergraduates and 15,000 are graduates. The employment rate of the fresh graduates keeps a record of over 95%.
The University has Graduate School and 25 colleges and departments. Professional disciplines involve 11 subject categories, namely philosophy, economics, law, education, literature, history, science, engineering, management, medicine, and arts, which offer 27 first-order disciplines authorized to confer Ph.D. degrees, 36 first-order disciplines authorized to confer Master's degree, 20 professional master's degree authorizations, one professional doctorate degree authorization, 2 key first-order disciplines and 14 key second-order disciplines honored at the national level, and 25 post-doctoral research programs. Seven disciplines rank among top 1% on the ESI rankings, among which engineering science and chemistry rank among top 1‰. HNU has 7 characteristic disciplines of national defense. Chemistry and mechanical engineering are listed as "world-class disciplines" of the Ministry of Education.
It has a staff of nearly 4,000 with a faculty of 2,045, of which, 1,428 are professors and associate professors, 11 are members of the Chinese Academy of Sciences and Chinese Academy of Engineering, 6 are members of the Academic Degree Commission under the State Council, 51 are members of the state's Thousand Talents Program, 20 are members of the state's Ten Thousand Talents Program, 3 won national outstanding teacher awards, 18 are distinguished professors and outstanding young teachers of the Changjiang (Yangtze River) Scholars Programme, 19 have been honored with financial support from National Outstanding Youth Fund, 23 are members of the state's Outstanding Talents Project of the 21st century, 2 are honored as young and middle-aged leading talents in the National Innovative Talent Promotion Program, and 134 are reputed as New Century Excellent Talents in support programs of the Ministry of Education. HNU also has 4 innovative research groups supported by the Natural Science Foundation of China (NSFC), and 8 innovative teams of the Ministry of Education.
HNU has established several national basic-course teaching bases, including National Teaching Base for Basic Engineering Course (chemistry), National Personnel Training Base for Basic Scientific Research and Teaching of Science (chemistry), National Demonstration Teaching Base of the Software College, and National Cultural-oriented Quality Education Base for College Students. It is a national demonstration university for enhancing entrepreneurship and innovation training reform, and a national exemplary university and national practice-oriented university in entrepreneurship and innovation. HNU has 7 national-level teaching teams, 6 bilingual model courses, 6 experimental projects of innovative talent cultivation, 4 national experimental teaching demonstration centers, 5 national comprehensive reform pilot majors for the Program of Culturing Outstanding Engineers, 3 national undergraduate internship bases, and one national VR experimental teaching center. In recent years, HNU has witnessed numerous achievements, such as 2 First Prizes and 7 Second Prizes in the National Teaching Achievement Assessment; 10 video courses listed as national Excellent Open Courses; 21 courses as national excellent courses for resource sharing; and, 13 courses as national online open courses.
HNU is equipped with 2 state key laboratories, 2 national engineering technology research centers, 3 national-level international cooperation bases, one state engineering laboratory, one key discipline laboratory of the State Administration of Science, Technology and Industry for National Defense, 5 key laboratories of the Ministry of Education, 4 engineering technology centers of the Ministry of Education, and 3 discipline innovation and talent introduction bases of institutions of higher education under the Ministry of Education. It has participated in establishing three national "2011 Collaborative Innovation Centers".
Hunan University National Science Park in Changsha National High-Tech Industrial Development Zone has 56 high-level platforms for university-government, university-enterprise, and inter-university cooperation, and established collaborative relations with 32 provincial, municipal and autonomous region governments, as well as thousands of enterprises. The National Supercomputing Center in Changsha under the overall management and operation of HNU is the third one in China, which provides high-performance computing, cloud computing, and big data processing service for hundreds of institutions of higher education, scientific research institutions, government departments, and enterprises.

HNU academic exchanges with over 160 universities and research institutes across the world, and enrolled overseas students from over 108 countries and regions, as well as Hong Kong, Taiwan, and Macau. It established internship bases worldwide. More than 2,000 HNU students went to partner universities around the world for study tours and joint educational programs. Confucius Institutes have been established in U.S.A, Canada, and South Korea.
The University occupies a total area of 1,531,960 square meters with its school buildings covering 1,240,560 square meters. The university library boasts a total collection of over 7.29 million books and 127 Chinese and foreign language data bases. Advanced IPv6 campus network has been equipped in all teaching buildings, office buildings, and students' apartments. Multi-channel information-based teaching, management, and service are achieved supported by the mobile technology.
Millennial HNU will keep inheriting and promoting the time-honored educational and cultural traditions of Yuelu Academy; follow modern higher education rules; make breakthroughs in key areas and improvements in an all-round way; enhance reform and innovation; highlight distinctive characteristics, in a bid to build a world-class university, and contribute to realizing the Chinese dream of great national rejuvenation.
(Update: Jan. 2019)